(You can find the english text below the picture)
Viele Freunde fragen uns, wenn sie erfahren, dass wir fast alles, was wir besitzen verkaufen oder verschenken, ob es uns nicht schwer fällt, uns von unseren Sachen zu trennen. Eine sehr interessante Frage!
Uns war klar, dass wir nicht alles, was wir haben, in unserem Van unterkriegen und dass wir uns drastisch auf das Minimum reduzieren müssen, denn wir wollen in den kommenden Jahren reisend leben, und wir werden circa 7,5 m2 für uns zur Verfügung haben: 2 Menschen, einen Hund und unsere Sachen.

Wir waren nie große Konsumenten und haben nur das angeschafft, wovon wir dachten, das wir es wirklich brauchen und doch mussten wir beim Ausmisten feststellen, wie viel zusammenkommt, wenn man einige Jahre an einem Ort in einer Wohnung verbringt. Diese und jene Möbel, Küchengeräte, Klamotten, Bücher, Groß- und Kleinkram, die einem, wie es sich anfühlt, viel bedeuten.
Ja klar, es wird viel darüber geredet, dass wir viel mehr haben als wir benutzen oder brauchen und alle nicken verständnisvoll bei so einem Gespräch. Aber habt ihr mal probiert, all den Mist, den ihr nicht benutzt wegzugeben? Wir alle umgeben uns mit diversen Gegenständen und wir arbeiten so hart, um uns all dies leisten zu können. Letztenendes, geben wir unsere Freiheit für all diese materiellen Dinge auf, die uns eigentlich nur belasten.

Es ist ein unglaublich befreiendes Gefühl sich von all dem zu trennen. Zumindest für uns war es das. Um ehrlich zu sein hat es einen riesen Spaß gemacht, all die Dinge, die man oftmals versucht hat wegzugeben und es dann doch nicht gemacht hat weil, wer weiss…, endlich mal loszuwerden. Wir neigen dazu, uns in schöne Gegenstände wortwörtlich zu verlieben, ihnen Namen zu geben und sie zu personifizieren. Aber sie bleiben nur ersetzbare Gegenstände.

Einige gute Bücher und die Plattensammlung von Chris haben wir guten Freunden anvertraut, ansonsten nein, wir vermissen unser Materielles nicht, wir sind froh, dass sie einen neuen Besitzer haben, der /die sie schätzt und gebraucht und so treten wir viel leichter in unser neues Leben.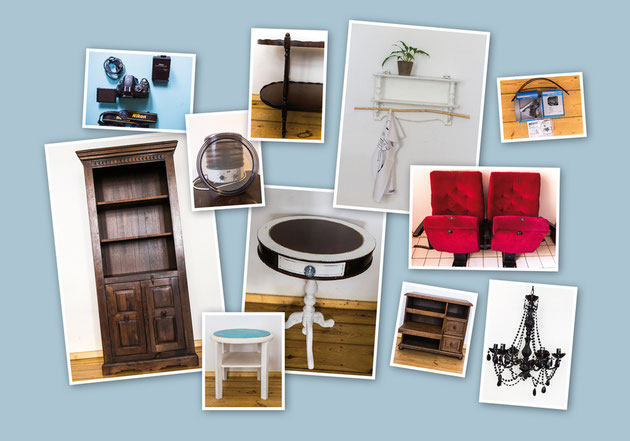 More and more friends ask us when they learn that we sell or give away almost everything we own, whether it is easy for us to separate ourselves from our belongings. A very interesting question!
It was clear to us that we would not be able to get everything we have in our van and that we need to drastically reduce our ownership to the minimum, because we want to travel in the coming years, and in the caravan we will have about 7.5 m2 available for us: 2 people, a dog and our stuff.

We were never the big consumers and just bought what we thought we really needed, and yet when mucking we had to find out how much comes together when you spend a few years in one place in a flat. This and that furniture, kitchen utensils, clothes, books, small things, which, as it feels, mean a lot.
Of course, there is a lot of talk about having much more than we use or need and everyone nods understandingly at such a conversation. But have you ever tried to give away all the crap that you did not use? We all surround ourselves with various items and we work so hard to afford all of this. Ultimately, we give up our freedom for all these material things that really only burden us.

It is an incredibly liberating feeling to part with all this. At least for us it was. To be honest, it was a lot of fun, all the things you often tried to give away, and then you did not do it because, who knows ... finally get rid of it. We tend to literally fall in love with, give names to, and personalize beautiful objects. But they remain only replaceable items.

Some good books and Chris's record collection we have trusted good friends, otherwise no, we do not miss our material things. We are glad that they have a new owner who appreciates and uses them and so we beginn light-hearted our new Life.